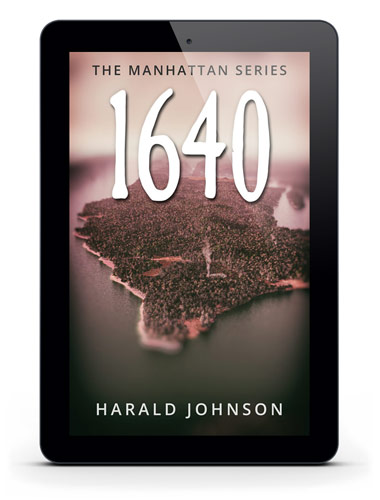 Well, I did it—just published the 4th and final ebook (1640) of The Manhattan Series on Amazon. Book description: "The gripping story of New York City's (and Manhattan's) birth concludes in 1640 during a period of extreme turmoil." You can see the cover above and here's the direct link to it: https://www.amazon.com/dp/B0768VRSHP
And here are all four covers in this ebook series:

As I mentioned in the prior post here, this fourth book took me a lot longer to complete for various reasons. And I ended up, after all, doing 10 draft revisions (!) until I was satisfied. Even so, I'm sure some eagle-eyed reader will find and point out a typo or two to me. It always happens. But that's the beauty of self-publishing: I can go in and change whatever I need, and the changes will be live within hours, not the months (or years) it took in the old days. It's a completely different publishing world out there.
I won't go on much longer here. I just invite you to get your copy of 1640 to read and judge for yourself. Then tell me what you think! Remember that these are short books ("novellas") that typically take less than 3 hours to read. (NOTE: I'm lowering the price of this book for a limited time to only $0.99 so you've got no excuse!)
P.S. A little warning: There is more violence in this book. That matches the actual history and the "clash of cultures" theme. It was a violent time for all involved. And it shaped the destiny of one of the greatest cities on earth.